Kerala Houseboats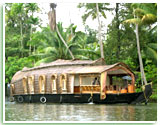 The House Boats in Kerala commonly known as Kettuvallams are huge boats with high carrying capacity. These boats or boat houses were part of Kerala's culture and tradition over the past many years. Presently they got new life in the form of houseboats, providing a good time for the tourists who visit Kerala. A journey in this boat house is interesting, passing through villages, busy boat jetties and vibrant celebrations. Kerala house boats are mainly massive vessels crafted out of wood and other natural materials.
It is really a great experience to enjoy the beauty of the backwaters of Kerala by travelling in house boat. The water ways of the houseboats in Kerala are banked by the greenery and is presently attracting tourists from all parts of the world.
From the age old times, the Kettuvallam or big water vessals, have been a main mode of transport in the backwaters of Kerala. Because of its huge size and capacity, it can also carry load. In the present day scenario, as tourism in Kerala is growing, the Kettuvallam is being developed in to houseboats providing all the modern amenities like air-conditioned cabs, bed rooms, kitchens, living and dining rooms, passage, sun deck, toilet etc. Most of the houseboats in Kerala are also motor driven. The houseboats in Kerala are mainly classified into three types : standard houseboat, deluxe houseboat and luxuary houseboats.
Structure of a Houseboat
The hull of the boat is made of long wooden planks. They are tied using coir made of natural coconut fibre and then stuffed in between. Traditionally these houseboats are steered by two men. In modern times almost all boats are motorised as well. Long bamboo poles are also made use of to get momentum.
Furnishing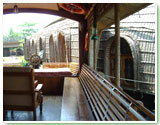 The interior furniture in hoseboats of Kerala are either of natural cane or wood, floor is clad with coir mat matching each other and highlighting the traditional architecture of Kerala..


Roofing
In most of the Kerala Houseboats, bamboo and coconut tree products are used for making the frame of the roof . Also leaves of coconut tree is used to tatch the boats along with weaved bamboo
Online Houseboat Reservation